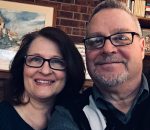 Pastors - St. Joseph
816.510.3721
Jimmy and Jean Root grew up in central Nebraska, graduating high school in 1977. Ministry preparation took them to Central Bible College in Springfield, Missouri where they were married in 1980. They have three children and six grandchildren. They also enjoy outdoor recreation, gardening, reading, and travel. Jim is an avid hunter, and the author of three prophetic fiction novels.
After Jim's ordination with the Assemblies of God in 1982, and after pastoring churches in western Nebraska, the Roots were appointed in October of 1985 as missionaries serving the South American country of Colombia. Primarily in the city of Cali, they pastored, planted churches, and trained national leaders for church multiplication. Following their term in Colombia, the Roots returned to Nebraska in 1993 to establish a new church in Gothenburg, though Jimmy continued to minister on multiple occasions in five different Latin American nations.
In 1999, the Roots left a fully established church in Gothenburg and moved to Smithville, Missouri to serve Family Worship Center as pastors and builders. In July of 2014, Jimmy and Jean left Smithville in order to plant Manna Church in St Joseph with the vision of planting a multiple-location church in the city and surrounding area. In January of 2019 Manna Church united with Cornerstone Church in a God-ordained moment to continue the vision as a member of the Cornerstone Team.