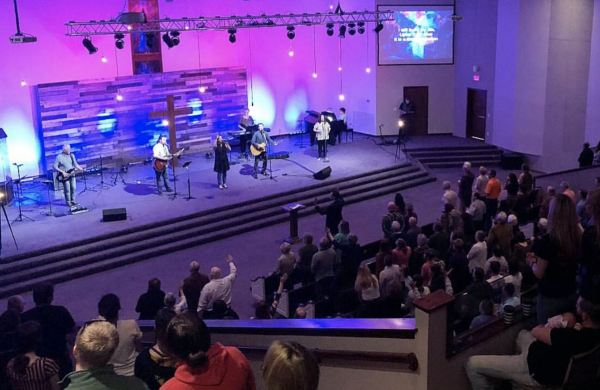 Cornerstone Church held services for the first time in June 1983 in the home of Gene and Linda Saunders, the founding pastors. The church quickly outgrew the house. After meeting in several rented facilities around town, Cornerstone moved to its present location at 900 Adam Drive in Chillicothe, MO in December 1990.
In 1991, Pastors Gene and Linda Saunders resigned from the church. Pastors Stan and Michelle stepped in to serve as senior pastors. Stan served the church as associate pastor from September 1986 to June 1991.
The youth center was built in 1993. It has been remodeled several times over the years. The new youth auditorium was added in 2008, and the existing building was remodeled again.
In 2000, the church finished construction on a new addition which added the present main sanctuary, office space, and more classrooms. 2008 included a parking lot expansion and the remodeling of the kitchen and Courtyard.
In 2010, the Children's Department was remodeled and renamed "Cornerstone Kids Town,"  and the Cornerstone Event Center was built to accommodate large church family gatherings, outreach events and sports activities.
In 2014 we launched our first satellite church campus in Milan, Missouri.  In 2015, we launched our second satellite campus in Cameron, Missouri.  And in 2016, We launched our third satellite campus in St. Joseph, Missouri. We are one church with three locations.
Cornerstone Church, however, is not just buildings, it's about people, our church family. We are the church who meets at 900 Adam Drive in Chillicothe, Missouri, 52127 River Road in Milan, Missouri, 317 N. Locust Street in Cameron, Missouri, and 805 S. 36th Street in St. Joseph, Missouri. USA. At Cornerstone Church we love God and love people.  We exist to connect people with God and his family - the church.