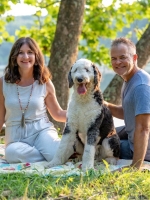 Stan and Michelle Saunders
Stan and Michelle are both graduates of Chillicothe High School. They were married in 1981 and have four children and two granddaughters. They enjoy outdoor activities such as bike riding, hiking, tennis and golf.
After college and pastoring two other churches, Stan and Michelle returned to Chillicothe in September of 1986 to serve Cornerstone Church. In 2016 they transitioned into pioneering the newest location in St. Joseph while overseeing the entire church organization.  In addition to pastoring, they love world missions and traveling abroad.